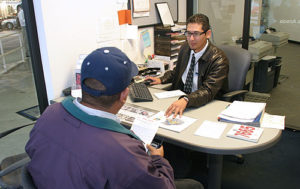 The 9th Circuit has filed an opinion today holding that service advisors of automobile dealerships are not exempt from overtime pay. (Navarro v Encino Motorcars, LLC.) In that case the dispute focused around the existing FLSA exemption from overtime that applies to "any salesman, partsman or mechanic" … "primarily engaged in selling or servicing automobiles". The employer argued that this definition should include service advisors because they are sufficiently involved in the process of selling automobiles and in the overall customer experience.
The court rejected this argument, stating that services advisors clearly do not sell automobiles. The exemption does not include those employees who sells services. The court further noted that service advisors also are not engaged in servicing automobiles, because they actually do not work on vehicles. They do not perform any maintenance on the vehicles with their own hands. Their job is mainly to arrange services appointments.
Read the full text of the above court decision, which includes extensive analysis of the relevant law and legislative history.