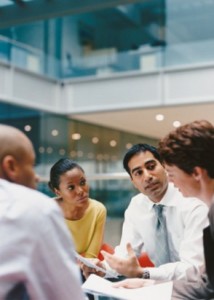 PERB Decision No. 2409  / SEIU Local 1021 v Sonoma County Superior Court is an important decision holding that a public employee is entitled to have his union representative present at at the ADA / FEHA interactive process concerning accommodating his disability. In that case, the employer denied an employee's request for union representative to accompany her to the meeting and ultimately demoted an employee. The union filed an unfair practice charge with he Public Employment Relations Board (PERB).
PERB concluded, among other things, the employee not only entitled to union representation during an interactive process meeting, but it could actually be beneficial. For instance, a union representative could identify possible accommodation to an employees disability and bring knowledge of the collective bargaining agreement, addressing any potential conflicts, such as seniority rights v transferring an employee to a different position as an accommodation, etc.
In its ruling, PERB identified two types of situations when employees have the right to union representation in their dealings with the employer:  (1) when the employer initiates an investigative interview that would lead the employee to reasonable fear disciplinary action (the Weingarten right); and  (2) on all other matters related to the employee's terms and conditions of employment, such as informal or formal grievance meetings, discussions of leave entitlements, and prior to the placement of documents in an employee's personal file.
PERB pointed out that the right to union representation during the ADA interactive process meeting false into the second category of "all matters related to terms and conditions of employment."