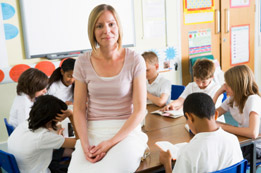 One type of an accommodation that an employee with a qualifying disability in California may be entitled to is preferential reassignment to a different position that would accommodate that disability. This right has a tendency to "collide" with the employer's rights with regard to disabled workers. Under the same law, the employers don't have to provide a perfect accommodation to a disability or even the specific accommodation that the employee asks. They only have to provide "reasonable" accommodation.
So, what happens when a disabled employee asks to be reassigned to a different position to accommodate his illness, but the employer refuses to transfer that employee because they don't have an obligation to provide that "perfect" accommodation?  – Although every situation is different, a California appellate court ruled in the employee's favor in one case, where the employer was banking on being in the right.
In Swanson v Morongo Unified School District, Plaintiff was a school speech teacher, who was diagnosed with breast cancer.  She missed a lot of time from work due to her condition and treatment, and as a result – missed significant amount of training. She she was released to return to work and assigned to teach 5th grade, she requested to be reassigned to 2nd grade, because she didn't have sufficient training to teach 5th grade due to missing training time, but she was perfectly capable of teaching 2nd grade due to her prior significant experience. The employer refused to reassign the plaintiff and instead placed her to work in the kindergarten. The employee was really unhappy with this assignment because she was concerned that she would much more exposed to getting sick on top of her cancer when she works with younger children. Eventually, she received poor evaluation and was terminated.
Ms. Morongo sued the district of disability discrimination and failure to accommodate. The employer argued that they didn't have an obligation to reassign her to 2nd great, because they don't have to provide a perfect accommodation, but only a reasonable one.  The Court disagreed and noted that although an employer does not have an obligation to create a new job, reassign another employee, or promote a disabled employee, an employer has a duty to reassign a disabled employee if an already funded, vacant position at the same level exists (relying on Spitzer case). Moreover, the court point out, a disabled employee seeking reassignment to a vacant position is entitled to preferential reassignment consideration over other applicants or existing employees. (Jensen v Well Fargo Bank).